¿Qué es un Front Row?
Es la primera fila de asientos en los desfiles. Como lugar destacado que es, siempre está ocupado por celebrities, clientes de la firma y periodistas. ¿Pero quienes son últimamente las
frontrowers
más solicitadas de las fashion week?
Che é un Front Row?
È la prima fila di poltrone nelle sfilate. É sempre occupato da celebries, giornalisti e clienti del marchio. Ma chi sono le
frontrowers
piú domandate delle fashion week negli ultimi tempi?
What is the Front Row?
It's the first row of seats in the catwalk. It's a privilege place where always are seating celebrities, journalists and clients of the brand. Who are the
frontrowers
of the parades in the last time?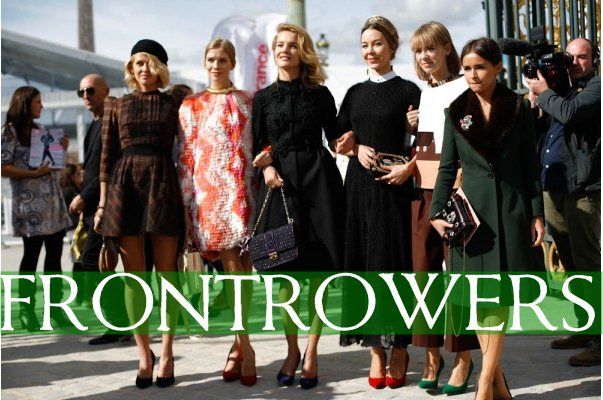 Ulyana Sergeenko:
diseñadora de alta costura, su estilo
soviet glam
caracterizado por maxifaldas de vuelo y abrigos XL se hizo famoso gracias al fotógrafo Tommy Ton del blog Jak&Jill. En Julio del 2012 presentaba su primera colección en la Semana de la Alta Costura de París.
Ulyana Sergeenko:
designer di haute couture, il suo stile soviet glam caratterizzato da maxigonne e cappotti XL è diventato famoso grazie al fotografo Tommy Ton dal blog Jak&Jill. Nel Luglio di 2012 ha presentato la sua prima collezione nella settimana della moda a Parigi.
Ulyana Sergeenko:
high couture designer, her style with maxifskirts and XL coats became famous thanks to the photographer Tommy Ton's of the blog Jak&Jill. She presented her first collection in the week of the high Couture in Paris on July 2012.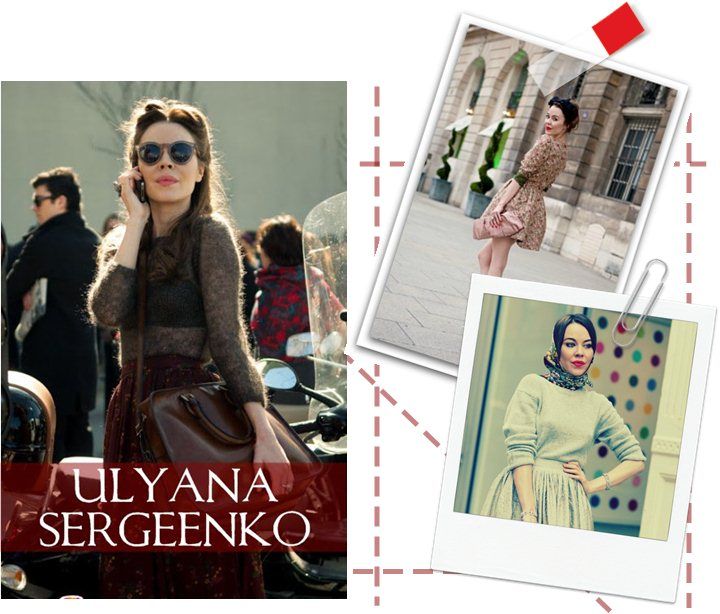 Julia Sarr-Jamois:
editora de moda de la revista británica Wonderland está presente en todos los desfiles por motivos laborales pero es objeto de los flashes no sólo por su pelo afro sino por su capacidad para mezclar prendas low-cost con firmas de renombre.
Julia Sarr-Jamois:
redattore della rivista di moda britannica Wonderland frequenta tutti le sfilate per motivi di lavoro. I suoi capelli afro e la sua capacità di mescolare indumenti low-cost con marchi importanti hanno fatto che sia oggetto dei fotografi.
Julia Sarr- Jamois:
Editor of Wonderland, a british fashion magazine, she attends all parades to worked reasons. Photographers love her afro hair and her ability to mix low-cost garments with important brands.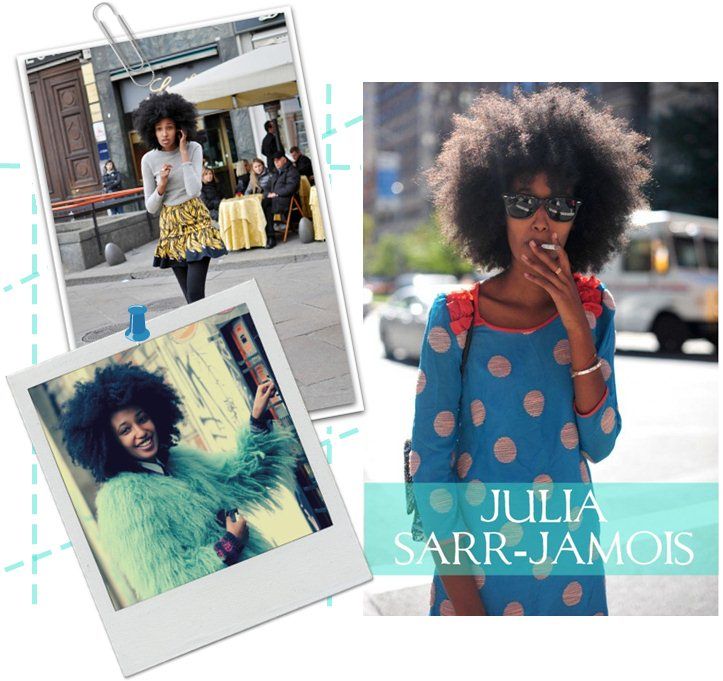 Miroslava Duma:
estilista y colaboradora de las mejores revistas de moda causa furor en el blog The Sartorialist. Experta en mezclar estampados, su estilo (
del que os hablé aquí
) es arriesgado y pese a su estatura ha conseguido ser toda una princesa de la moda.
Miroslava Duma:
stilista e collaboratore delle migliori riviste di moda causa furore nel blog The Sartorialist. Esperta in mettere insieme diversi stampi, il suo stile (del quale vi ho parlato qui) è rischioso e nonostante la sua statura ha riuscito d'essere una vera principessa fashion.
Miroslava Duma:
Stylist and reporter of the best magazine fashion, often appears on the blog The Sartorialist. She is an expert in mixing prints, her style (I told you about it here) is risky and despite her height, she has become a princess of fashion.
Hanneli Mustaparta:
fotógrafa y bloguera ha protagonizado campañas para Net-A-Porter. Las firmas confían no sólo en su imagen sino en su dominio de las redes sociales. En las semanas de la moda la podrás ver cámara en mano inmortalizando los mejores looks.
Hanneli Mustaparta:
fotografa e blogger ha participato in campagne per Net-A-Porter. Le marchie hanno fiducia nella sua immagine ed anche nel suo dominio delle reti sociali. Nelle settimane della moda possaimo vederla macchina fotografica in mano fotografando diversi looks.
Hanneli Mustaparta:
photographer and blogger she takes part in campaigns for Net-A-Porter. Brands truts on her image and her mastery of social networks. In the fashion week you can see she to photograph the best looks.