Como últimamente en todas las alfombras rojas no hubo grandes sorpresas en la gala de los Grammy. Un dress code que exigía nada de pechos y traseros al aire, y aunque algunas de las asistentes desobedecieron el protocolo que querían imponer, otras hicieron lo que pudieron... De todos los estilismos vistos me quedo con estos tres.
* Medalla de bronce
para la Srta. Taylor Swift que después de su ruptura con Harry Styles ha resurgido de sus cenizas cual Ave Fénix y parece estar diciéndole eso que canta en su canción: "Nunca jamás volveremos a estar juntos" y mira lo que te has perdido. La verdad que la chica ha ganado en estilo, ¿no os parece?
Come sta accadendo nei tappeti rossi più recenti non ci sono state sorprese alla gala dei Grammy. Miei abiti preferiti sono stati questi tre.
* Medaglia di bronzo
per Taylor Swift che con questo abito stile greco sembra che sia pensando quello che canta al suo ex "We're never ever getting back together". Almeno dopo essere lasciati la ragazza ha vinto in stile, non vi pare?
As it is happening in the latest red carpets there were no surprises at the Grammy Awards. My favourite outfits were.
* Bronze Medal
for Taylor that with that greek style dress seems to be singing to his ex that's "We're never ever getting back together".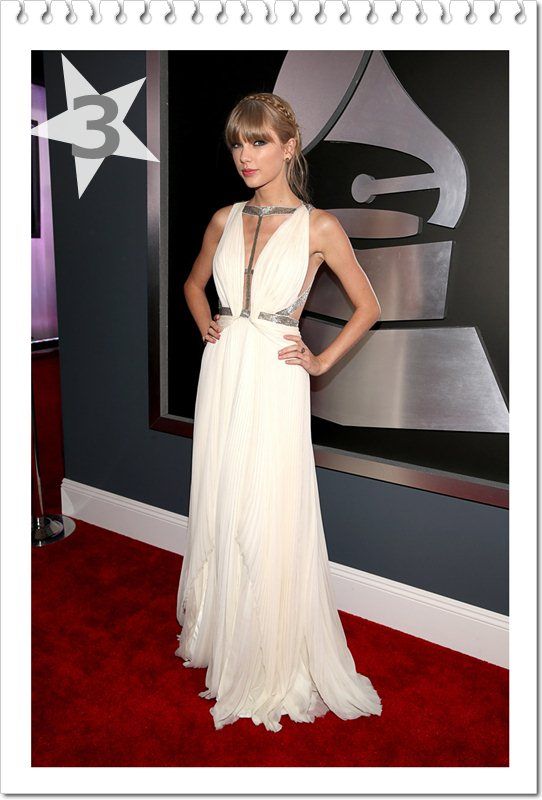 * Medalla de plata:
Directamente y en el número dos de las mejor vestidas se sitúa Solange Knowles, un vestido sencillo, impecable y en color de la temporada verde esmeralda. ¡Un 10 para su estilismo!
* Medaglia d'argento
per Solange Knowles che indossó un abito semplice, elegante e con il colore della stagione. Un outfit di 10!
* Silver medal is for Solange knowles. She wore a plain but elegant dress with the color of the season.
* En el número 1 y con una merecida
medalla de oro
, Rihana. Y digo merecida porque no habrá sido fácil renunciar a los pelos de colores y las crestas y seguramente haya sido un gran esfuerzo para ella lucir con un estilo tan elegante. Un consejito Rihana, si este cambio se debe a un cambio de estilista, no dejes escapar a este ¡por Dior!
*

Il numero 1 e con una meritata
medaglia d'oro
,
Rihana. Questa volta é stata corretta con il suo look. Deve essere difficile lasciare dietro il colore dei capelli, ma è riuscita. Mi raccomando Rihana, non perdere questo stilista!
*

The number 1 and with a
gold medal
,
Rihana. This time she has knowed what to dressing for the occasion. Congratulations!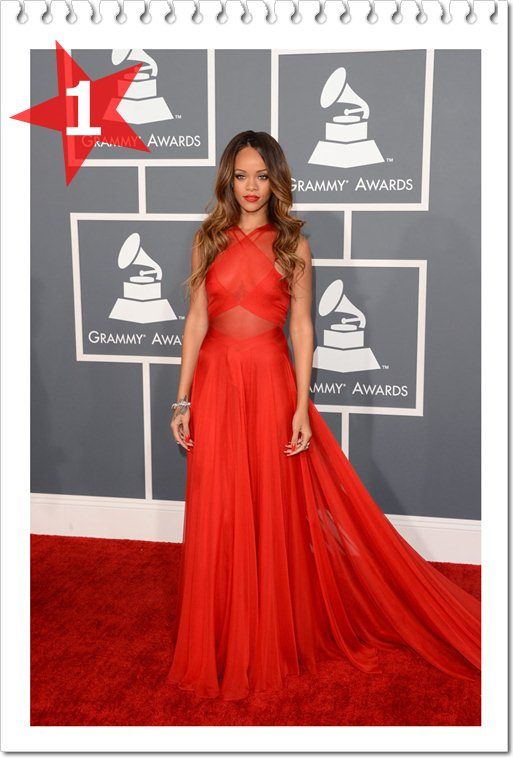 Mañana os dejaré en
facebook
el resto de estilismos que lucieron las asistentes a la ceremonia.
Mil gracias por vuestros comentarios.
xoxo
Domani su facebook potete trovare gli altri outfit della gara. Grazie mille per i vostri commenti.
You can see other looks of the attends of the ceremony on facebook, tomorrow afternoon.
Thanks a lot for all your comment.